8
th
 December 2022 was a remarkable day in the of history of WomenAid Collective (WACOL) as it marks her silver jubilee with pomp, pageantry, and grandeur. Indeed, the event was a beehive of activities.
WACOL's beneficiaries, friends, and partners were on hand to witness this momentous occasion, and to share in the euphoria that comes with it. Even students from secondary to tertiary institutions were not left out in the fiesta.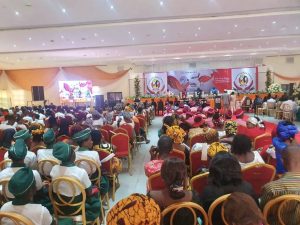 The event was also an opportunity to reflect on the organization's journey of defending human rights, promoting women's and girls' empowerment.
We also celebrated the incredible and inspiring stories of the remarkable journey of some beneficiaries of WACOL services as they move from being survivors of Violence Against Women and Girls (VAWG) to becoming successful entrepreneurs, and even amplifying the voices of other women in society.
Based on the achievements recorded so far and indicators of success, the future of WACOL is bright.
The event also witnessed a stimulating debating competition, and drama competition, in addition to art exhibitions for secondary and tertiary institutions.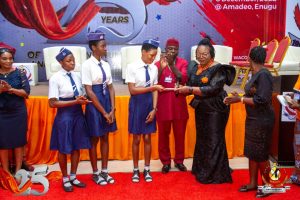 The high point of the occasion was honoring 65 notable individuals with awards as "Ambassadors of Women's Rights". The award came in different categories including; "WACOL Star Widow" which was received by Mrs. Helen Eze for not just surviving widowhood practices in Ngwo Community in Enugu State but, also for being a shining light for other victims, and today she is speaking-out against VAWG.
While delivering her speech at the occasion, the Founding Director of WACOL Prof Joy Ngozi Ezeilo (OON, SAN) said that WACOL has rendered free legal aid and assistance to at least 62,000 women and girls within its 25 years of existence.
Ezeilo said, "my passion when I started this organization was to touch lives and defend human rights and today the vision has manifested."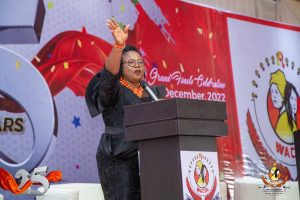 She said that the organization is the number one legal aid service provider for women and girls in Nigeria, stressing that "we are assisting about 2,000 on an annual basis.
"We register an average of 20 cases daily at our legal clinic. This is evidence-based and well-documented.
"From 1998 to date, approximately 62,000 women and girls have accessed free legal aid and assistance services. We provide free legal services for women and young people in our offices across the country.
"We also ran community law centers in Katsina, Ebonyi, and Anambra States, including mobile legal clinics in Bayelsa, Benue, Enugu, Ebonyi, and Anambra States."
"These services available under the legal aid scheme include court representation, crisis intervention and counseling, information about victim's rights, shelter, home visits, and other human rights abuses, including denial of inheritance, assault, child abuse/neglect, harassment/ intimidation, sexual assault/rape, and other forms of violence against women and young people," she said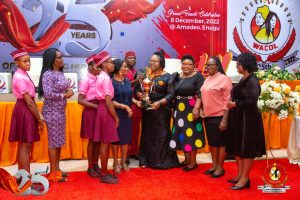 Ezeilo noted that WACOL has a membership of many coalitions, which include LACVAW, Gender Technical Unit, Gender, and Constitutional Advocacy Network, and the Network of Sexual Assault Referral Centers
She thanked all partners of WACOL for their support so far saying "Successful execution of these projects and more are made possible with funding support from JBDF managed by the UNDP, UNDP/DGD, EU, USAID, UNICEF, and many others.
In her remark, the Dean of the Faculty of Law University Nigeria Enugu Campus (UNEC) Prof Ifeoma Enemuo who chaired the event extolled WACOL's virtues as a leading women's rights organization in the country.
Prof Enemuo stated that WACOL has been giving voice to the less privileged group in society through her integrated interventions.
Also speaking, the Country Director of ActionAid Nigeria, Ene Obi represented by Niri Goyit, Women's Rights Manager of Action Aid commended WACOL on her 25 years of impacting positively the lives of women and girls.
Obi said, "today, we are celebrating growth, eradication of poverty, and God's faithfulness.
"WACOL is an example of a nation with good leadership because a nation with a good leader will have growth, make impact and progress."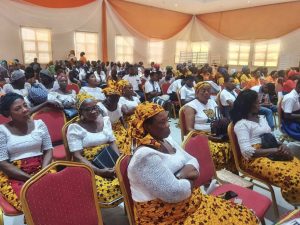 In her goodwill message, the Ford Foundation's Program Officer, Gender Racial, and Ethic Justice-West Africa Ms. Olufunke Baruwa congratulated WACOL for the milestone. She said that her organization is proud of WACOL's achievement within 25 years of service as a women's rights and wished her well in her future endeavors.
Other dignitaries at present include Hon. Justice G.C Nnamani, President of the Customary Court of Appeal, Enugu State who served as WACOL's Pro Bono Lawyer, the DVC academic UNEC Prof Edith Nwosu,  Prof Stella Chinyere Okunna's first female professor of mass Communications, Prof Joy Onyeso (Iyom) ED WILPF Nigeria, Emeritus Prof Obioma Nworgu, Prof Antonia Achike.
We also felt the presence of different Community Women groups and faith-based organizations including Oji-River Urban women, Udi Progressive Union Women wing, Ogene Ifunanya Women Association Olocha, Awgu, Ihe Women Association, Catholic Women Organization (CWO) Umidim Ezeagu LGA amongst others.
Meanwhile, goodwill messages have continued to pour in from friends and associates of WACOL across the globe.