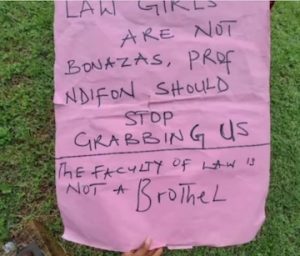 In the last few days, we have witnessed students of the Faculty of Law, University of Calabar (UNICAL), boldly announce their displeasure through a peaceful protest as they demand for the immediate removal of Prof. Ndifon, the Dean of faculty based on several allegations of sexual harassment and intimidation.
These students who came out in their numbers with placards containing heartbreaking and disturbing content that read "Prof Ndifon should stop grabbing us" "The faculty of law is not a brothel…" They further expressed their refusal to accept as normal the demands for sexual favour in exchange for grades by lecturers.
According to earlier reports in 2015, Prof Ndifon was suspended by the university in following an allegation of sexual assault on a female student. Surprisingly, he was reinstated as Dean in 2022.
Sexual Harassment like all other forms of gender based violence is a serious violation of the rights of women and girls. Whether it be  physical, verbal or gestural sexual harassment, it affects the full enjoyment of the victims right to health, life, employment, education and freedom of expression. It ultimately undermines their dignity of person, liberty and integrity.
A recent graduate of the University of Calabar, speaking anonymously has expressed both astonishment and satisfaction in response to the recent protest directed at Professor Ndifon. She elaborates that her astonishment stems from the fact that despite assuming the position of Dean of the Law Faculty, he continues to be embroiled in alleged acts of sexual misconduct—a behavior that had already gained notoriety during her time at the institution. In conjunction with her surprise, she conveyed a sense of pride in the current female students who have initiated this protest. Reflecting on her own experience, she wished for that there was such collective courage. In her words,  This incident is representative of a larger issue, with this particular lecturer being just one example. Hopefully, this will serve as catalyst for addressing the underlying unspoken instances of sexual misconduct within the university.
In the last decade, similar similar reports and complaints from female students in different institutions in Nigeria, WACOL pushed for the passage of the Sexual Harassment Bill. Sadly, this bill is yet to become law up till now.
As an organization, we are resilient in the demand for the passage of the Sexual Harassment Bill into law as a matter of urgency to ensure the adequate protection of the rights of women and girls in learning institutions within Nigeria.
We are with the students of the Faculty of Law, UNICAL in the demand for justice and immediate disciplinary action. Women and Girls have a right to obtain education in a safe and conducive environment. They deserve to reach their greatest potential and contribute meaningfully to national and international development.
We commend the NBA for setting up a probe panel and also embarking on a fact-finding mission to UNICAL to investigate the issue.
However, more needs to be done by all stakeholders in other to ensure the safety of women and girls everywhere.
#PassTheSexualHarrasmentBill
#ProtectOurGirls
Prof. Joy Ngozi Ezeilo, SAN, OON
[Ph.D. (Nig.), LLM (London), LL.B. (Nig.), BL, Diploma Peace & Conflict Res (Uppsala)]
Professor of Public Law
Founding Director, Women's Aid Collective (WACOL)/Tamar SARC and GirlsWill
Former United Nations Special Rapporteur on Trafficking in Persons, especially women and children (August 1, 2008 to July 31st 2014)
Address: WACOL Women House
No 9 Dr. Mathias Ilo Avenue, New Town, New Haven Extension.
Hotlines: 09060002128; 09091333000; 09092777000
E-mail: wacol@wacolnigeria.org; wacolnig@gmail.com
Website/Social Media: www.wacolnigeria.org